Queensland's Premier Programme For Future Leaders
          The Queensland Rural Ambassador Awards is the preeminent rural and agricultural leadership program for men and women aged between 20 and 30. Run by Queensland Ag Shows since 2003, the Queensland Rural Ambassador Awards allow young people to promote Queensland, agriculture, rural communities and show societies, while providing an avenue for local communities and Ag Shows to recognise, celebrate and develop future leaders.
          Entrants participate in a program that is designed to help them grow, network, develop their skills and hone their ambitions, giving them the confidence to return to their communities and industries and assume leadership positions. One attribute the finalists have in common is an enduring commitment to and involvement in their communities. Most have grown up with ag shows in their blood and are significant contributors to their local shows.
          The Queensland Rural Ambassador Awards bring together eleven finalists annually who represent eleven regions across the state (Burnett, Central Highlands, Central North West, Central Queensland, Darling Downs, Near North Coast, North Queensland, South Burnett, South East Queensland, South West Queensland, and West Moreton & Brisbane Valley) for an unforgettable and formative state final experience at the Ekka (aka Royal Queensland Show). 
          The selection process requires entrants to have won at a local competition followed by their sub-chamber competition to qualify for the state program. The Queensland Rural Ambassador Awards brings together 11 sub-chamber finalists annually.
          Over four days at the Queensland Rural Ambassador Awards State Final, the 11 Queensland finalists enjoy tours with Agforce, Australian Country Choice, Ekka behind-the-scenes, camel farming and dairy operations; dine with dignitaries and leaders from parliament, industry and the council of the royal show; meet with media and sponsors, and speak in the main ring in front of tens of thousands of Ekka Patrons. The winner then competes in the National Rural Ambassador final hosted by Agricultural Shows of Australia, as the Queensland Rural Ambassador.
What's involved at a local level?
          The local experience is uniquely different at each Local Show from year to year and is reflective of the finalist's experience and interest within their local Ag Show and Agricultural Interests. 
          Confirm your interest by contacting your local show and if you are not sure who to contact, reach out to the state committee and we will assist you to put you in touch with your local show
Partners Of The Queensland Rural Ambassador Awards
          We are proud to partner with like-minded companies and organisations who share a passion for celebrating young rural leaders and the success of regional Queensland and its agricultural industries. 

         Over the years, our Queensland Rural Ambassador Awards partners have successfully activated their sponsorship through:
Conducting tours of their facilities
Offering memberships to entrants
Speaking at our events to entrants
Presenting on panels to entrants
Leveraging our social media channels
Cross promoting their own competitions
Attending our functions to meet entrants
Creating content on their involvement
          Queensland Ag Shows is open to all of these activities and more to ensure partnerships provide an excellent return on investment for your organisation. 
          Learn how you can partner with us here.
Thank you to our Sponsors:
Australian Country Choice
Australian Beef Holdings
Senator Susan McDonald
RNA
Richard Smith Photography
Annexe Apartments
Shepherdson & Boyd
Drynan Family
Showmens Guild of Australasia          
Robertson Family Farming
James Lister MP   
Hannas Toowoomba
Virbac
The Cairns Show
Royal on Park
Rohan Birt Plumbing
Datadoo Anglo Nubians    
Ipswich Trophy Centre  
Sandstream Glass & Etching
Queensland Country Life – Rural Press
South Australia Country Shows
LUP Ticketing
Newrybar Rugs
Sally Prosser
Willow & Hide
Bec Fing Designs
Taroom Pharmacy
Lawrence Sehmish-Lahey
Angela Gee
Ashton Solli
Jessica Kirk
Nathan Trace
Myles Newcombe
Kerri Robertson
Jessica Kerr
Kylie Hopkins
Christie McLennan
Brianna Hockey
2022 Rural Ambassador State Finalists
L-R: Amity Robson (South West Sub Chamber & St George Show), Mariah Chiesa (North Queensland Sub Chamber & Cairns Show), Elizabeth Boughen (West Moreton and Brisbane Valley Sub Chamber & Boonah Show), Matthew Richardson (Central Queensland Sub Chamber & Ridgelands Show), Cassandra Wortmann (Central Highlands Sub Chamber & Alpha Show), Daniel Trace (South Burnett Sub Chamber & Nanango Show), Adrianna Pott (Burnett Sub Chamber & Mundubbera Show), Hayden Pratt (Near North Coast Sub Chamber & Gympie Show), Sarah MacGinley (South East Queensland Sub Chamber & Beaudesert Show) and Belinda Weber (Darling Downs Sub Chamber & Pittsworth Show).
.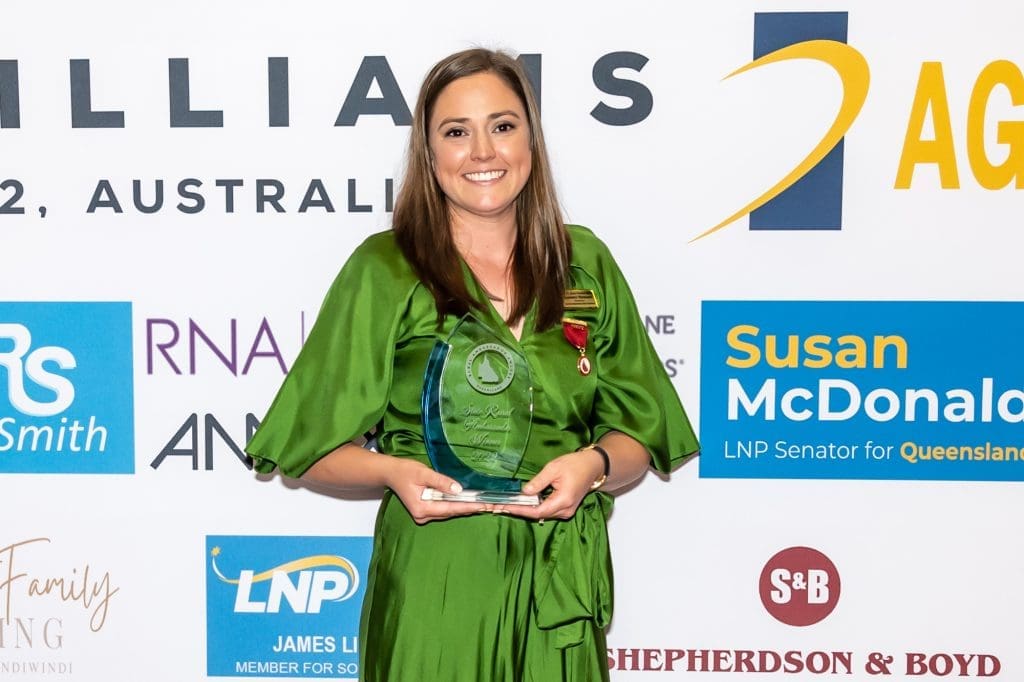 2022 Queensland Rural Ambassador Winner: Cassandra Wortmann
Originally from Victoria, Cass's strong passion for agriculture lead her to Alpha where she became the secretary of the Alpha show society. With her partner, Cassandra successfully operates a fodder production business and has a small herd of angus cows although, it is her two young boys which she describes as her greatest achievement in life. She is a Red Meat Ambassador for Meat and Livestock Australia and also has a broad interest in agriculture.
Having attained a Bachelor of Agriculture, Cassandra is undertaking further study in Leadership and Agribusiness System Management. In her spare time, her hobbies include horse sports, hockey and thoroughbred racing. For Cassandra, being a rural ambassador allows her to inspire people to learn more about the agricultural industries and the communities which are behind our food and fibre production.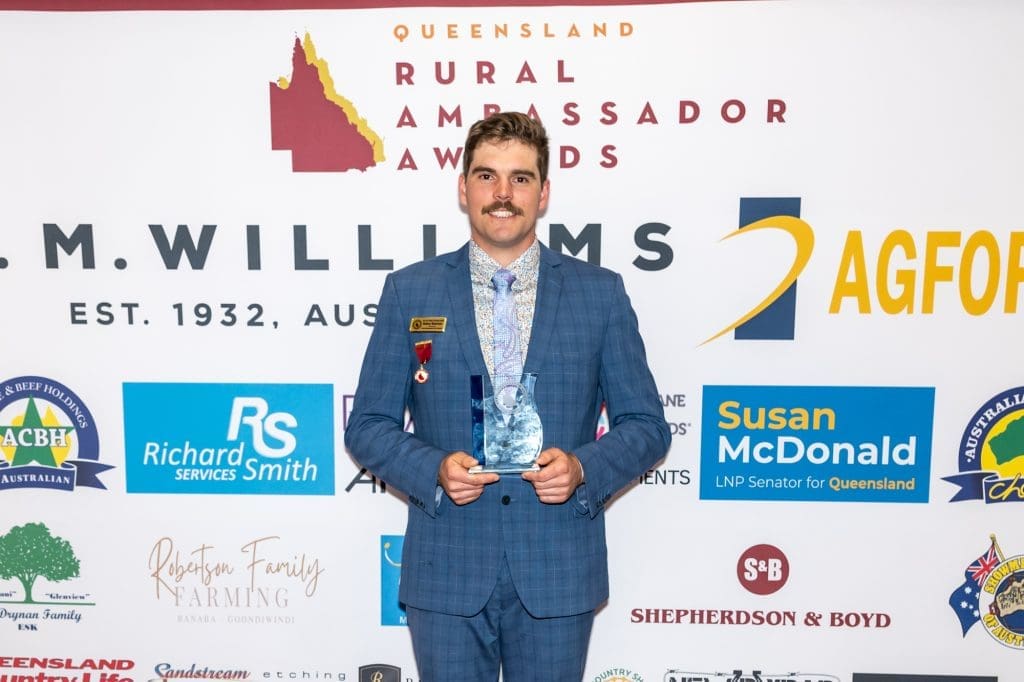 2022 Queensland Rural Ambassador Runner Up: Matthew Richardson
Matthew has exhibited cattle and poultry at shows around the Rockhampton region for over a decade. A Beef Extension Officer with the Department of Agriculture and Fisheries, Matthew also operates a commercial and stud Droughtmaster herd on his family's property. In his spare time Matthew enjoys working with old Toyota Landcruisers and was a former National level swimmer.
Matthew graduated with a Bachelor of Agriculture from Central Queensland University in 2020 where he was also awarded Dux of his course. Matthew has extensive community involvement outside of shows including as a member of the Droughtmaster Next Generation Committee, Beef 2024 Carcase Committee, and the Rocky City Swimming Club where he is a coach. Matthew believes that agricultural shows and his role as a Rural Ambassador allow the wider community to see how important the commercial cattle industry is to Queensland.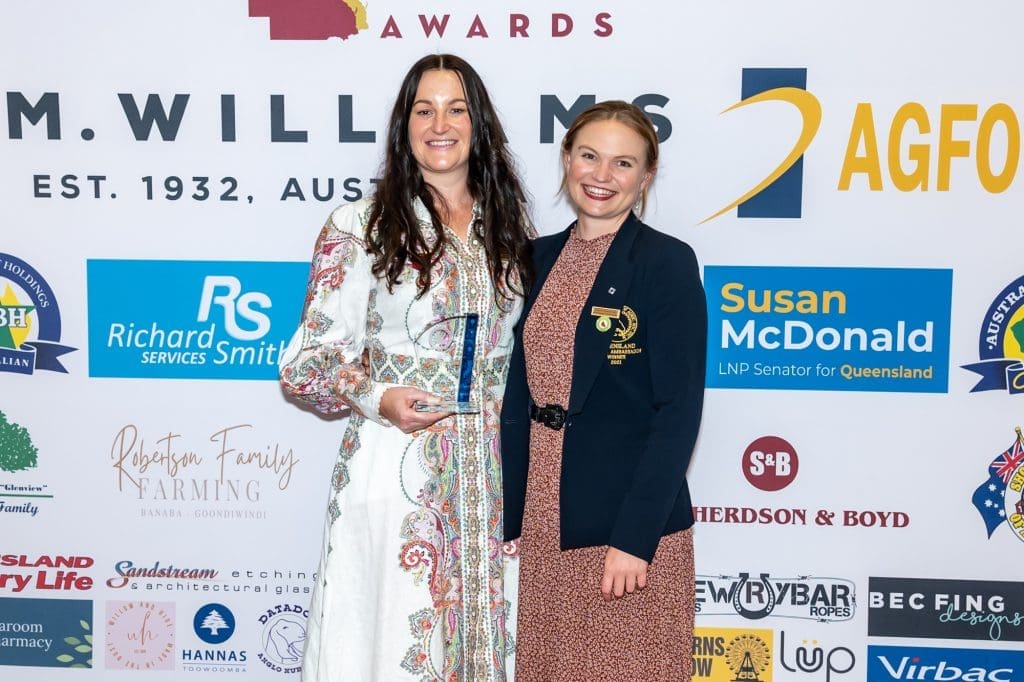 2022 Community Spirit Recipient: Adrianna Pott
For Adrianna, involvement in the Mundubbera Show is a family affair. Over the years she has performed a range of roles in the show society and also enjoys exhibiting.  Adrianna has a strong knowledge of the agricultural industries, having attained a Bachelor of Applied Science majoring in Biotechnology which has provided her with a deep understanding of animal health, nutrition and genetics. She currently works as an Area Sales Manager for Virbac Animal Health where she supports farmers and rural resellers across South East Queensland and the Northern Rivers region of New South Wales.
In her down time, she enjoys helping on her family properties in the Mundubbera and Eidsvold districts, particularly cattle work in the saddle. For Adrianna, being a rural ambassador allows her to share her passion about the agricultural industry and its diversity, while also giving her the opportunity to grow and develop herself as a leader.